Natural Teak Ground Bird Bath
Unusual Teak Bird Bath is perfect for deck, patio, table or ground.

Like fine outdoor furniture, reclaimed and hand carved teak is extremely dense and durable with lasting beauty. Eco-friendly as salvage makes each birdbath unique. Detailed and natural textures give each an individual character, no two baths alike.

Fresh water attracts more birds, and ground bathing is instinctive too. Offer necessary bathing and splash time for your avian buddies with these stunning baths. Ensures natural beauty even when birds are not present!

Irregularities occur with variations in shape and size. Water depth is approximately 1.5 to 2.5-inches deep at center, perfect for birds to bathe and wade comfortably.
Easily add height if desired - by placing the bath on a tree stump, table, metal stand or interesting planter. Ideal size, shape and texture for feathered friends, may be used as a feeder during winter months.
Ground Stands sold separately.
Measures (Approximately)
Small 10" - 12" diameter 2-4 lb.
Medium 14" - 15" diameter  5-9 lb.
Large 16"- 18" diameter  11-14 lb.
Ex Large 22" - 24" diameter  18-30 lb.
Size and Weight Varies
Material: Teak Root
Handmade in Java
Please note: Teak may fade or weather over time depending on sun exposure/weather conditions. Simply sand to bare wood and seal with non-toxic (no VOC) sealant to restore natural color and grain. Allow full cure prior to use.

Customer Reviews
09/09/2019
Darrell S.
United States
Unique and Beautiful Bird Bath
The teak birdbath is described as a "ground" birdbath, but we wanted to be able to enjoy it from the second level deck of our home. So, I converted it to an off-rail birdbath by building a large wooden bracket, attaching the bracket to a support post, and attaching the birdbath to the top "shelf" of the bracket. I then ran a drip line to the bath so that it is self-filling. Looks great!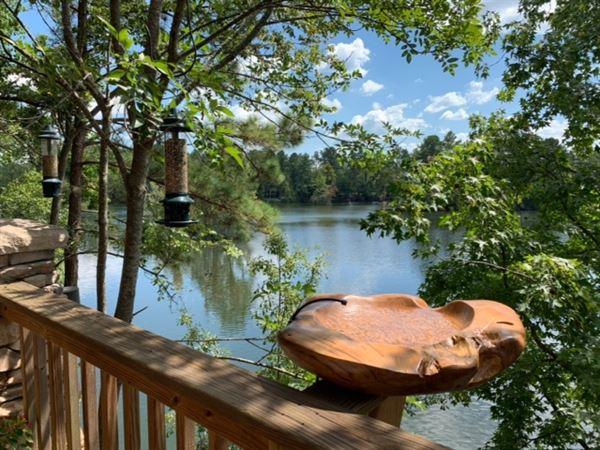 09/12/2019
The Birdhouse Chick
Hi Darrell, Would love to see a pic of this bird bath set-up!
07/18/2019
Yvonne L.
United States
The teak bird bath
Just received, but it is beautifully natural in the landscape.
06/28/2019
Jacqueline H.
United States
Teak Ground Bird Bath
The baby birds love it and it is beautiful color. Perfect
05/28/2019
Judy A.
United States
Birdbath Purchases....(2)
Large one was not sealed and took on water so needed to sand it and redo. Also hated the light color.....had no choice of colors but loved the small ones color which I am using inside my house as a key basket
12/20/2018
Ann B.
United States
Great Gift
Given as a Christmas gift. They loved it.